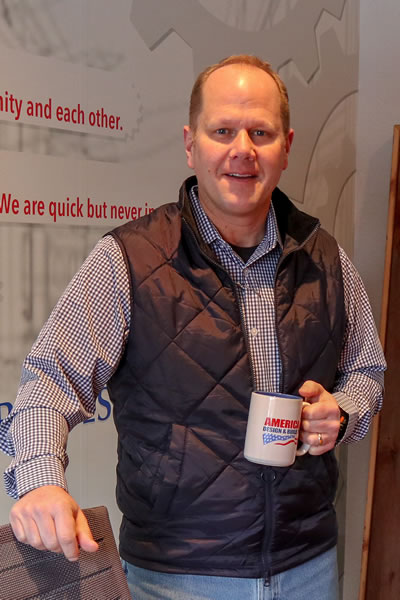 Kraig Sadownikow
Chief Executive Officer, President, Visionary
Kraig joined his father in business in 1997 as the company's first full-time hire. His entrepreneurial spirit has led American Companies to add a design and engineering firm, carpentry team, and complete project management staff. In addition to leading the core business, Kraig has worked to develop and coordinate multiple real estate investment groups throughout Wisconsin and the Midwest. He feels investing directly in projects with trusted equity partners has been valuable for all involved.
A West Bend native, Kraig graduated from West Bend East, UW-Madison and worked for Hershey Chocolate Corporation in Sales and Sales Management before joining Kons at American in 1997. Both he and Jo wanted their children to know "where the Christmas Tree goes" and felt raising a family in a community they support was critical to their mission in life. Relocating from Minneapolis back to West Bend was a decision they do not regret.
Community involvement is very important to Kraig: he is a graduate of the Leadership Greater West Bend Program, a past board member of the YMCA, Boys & Girls Club, West Bend Athletic Association, West Bend School District Foundation, the West Bend Waterways Foundation, Chamber of Commerce Board and past chairman of the Urban Design Committee and the West Bend School District Private Task Force. He is a current member of the West Bend Baseball Association and a board member of the Washington County Republican Party.
Kraig enjoys big buildings and small government and proudly served as the Mayor of West Bend from 2011 to 2019 with the mission of 'asking questions that have never been asked before'.
Kraig lives in West Bend with Jo, his wife of over 25 years, and their 4 daughters. Kraig enjoys time with his family, the outdoors, traveling, skiing, biking, an occasional round of golf and debating politics.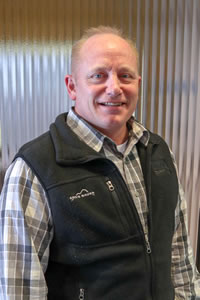 Todd Weyker
Chief Operating Officer, Vice President
Chief Operating Officer and Vice President since 2013, Todd first started working with the American Companies nearly 20 years ago. Todd is responsible for all construction-related activities and has overseen the design and construction of 12 hotels in Wisconsin and Illinois, as well as hundreds of commercial buildings, manufacturing facilities, and professional office spaces.
Safety is a key priority for American, and Todd has led the implementation of corporate safety training initiatives including First Aid and CPR certification for American Companies staff. He has personally completed OSHA 30-Hour Safety Certification, OSHA 10-Hour Certification, Safety Management Training, and additional clinics and seminars.
Married with three children (including son Ryan, also an American Companies Site Manager), Todd is an active member of his church, and serves as a school board member, participating in multiple school committees. He has also volunteered as a coach for multiple basketball, softball and baseball teams in his community. Hobbies include spending time with family and friends, golfing, and other outdoor activities.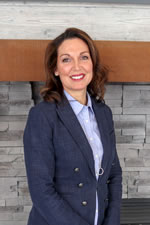 Jo Sadownikow
Integrator
From business manager to real estate broker to property manager, Jo is the glue that holds our organization together. Jo is the co-founder of the American Commercial Real Estate division and has overseen property management and financial services for more than 30 partner entities. Her favorite part of the job is working with people, from colleagues to real estate clients, landlords and tenants.
Jo enjoys outdoor activities and traveling, as well as cheering for her four busy daughters in their many sports and activities and spending time with her husband, Kraig.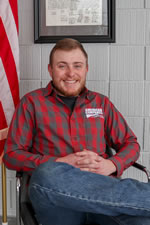 Ryan Weyker
Project Manager, ABC PS Certificate
Ryan joined the American Companies after honorably serving 4 years in the US Army, where he learned leadership, problem solving, accountability, and the importance of teamwork. Ryan uses his experience to navigate everything from team management and problem solving, to stress-management. As a site manager, he has a knack for anticipating problems before they arise and addresses them before they become issues. Ryan views timely communication and safety as top priority for both our customers and sub-contractors. Ryan has also earned his ABC of Wisconsin – Construction U Project Supervision Certificate.
When not at work, Ryan prefers to be outdoors – hunting, fishing, backpacking, and kayaking with friends and family (including dad, Todd, also of American Companies).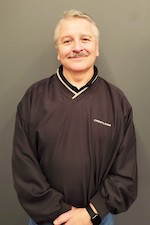 John Kregel
Project Manager, OSHA-10
John joined the American Team in 2022, bringing with him over 30 years of general contracting expertise. He was previously a drafter and construction project manager, as well as a certified LEED AP. He focused on school and municipal projects throughout Wisconsin. His experience includes building the first LEED Gold elementary school in Wisconsin. John feels that servant leadership is important and served as an alderman for the City of Sheboygan Falls and was also on the planning commission.
He and his wife Marilyn enjoy traveling, going to their cabin, and attending Packer games together. They also spend time on walks together and love their dog Lenny & cat Junior. In his spare time, John enjoys hunting and fishing.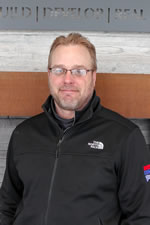 Chris Galasinski
Site Superintendent, OSHA-10
Chris has had his hands on practically every American Companies build project since joining the organization over a decade ago. He began working in construction while in high school, starting with masonry and then earning a spot as foreman at Cleary Building Corp. With extensive experience working in post-frame buildings, roofing and siding, and home remodeling, Chris has mastered the art of rough and finish carpentry.
In his spare time, Chris likes to hunt, fish, and is a strong supporter of the second amendment.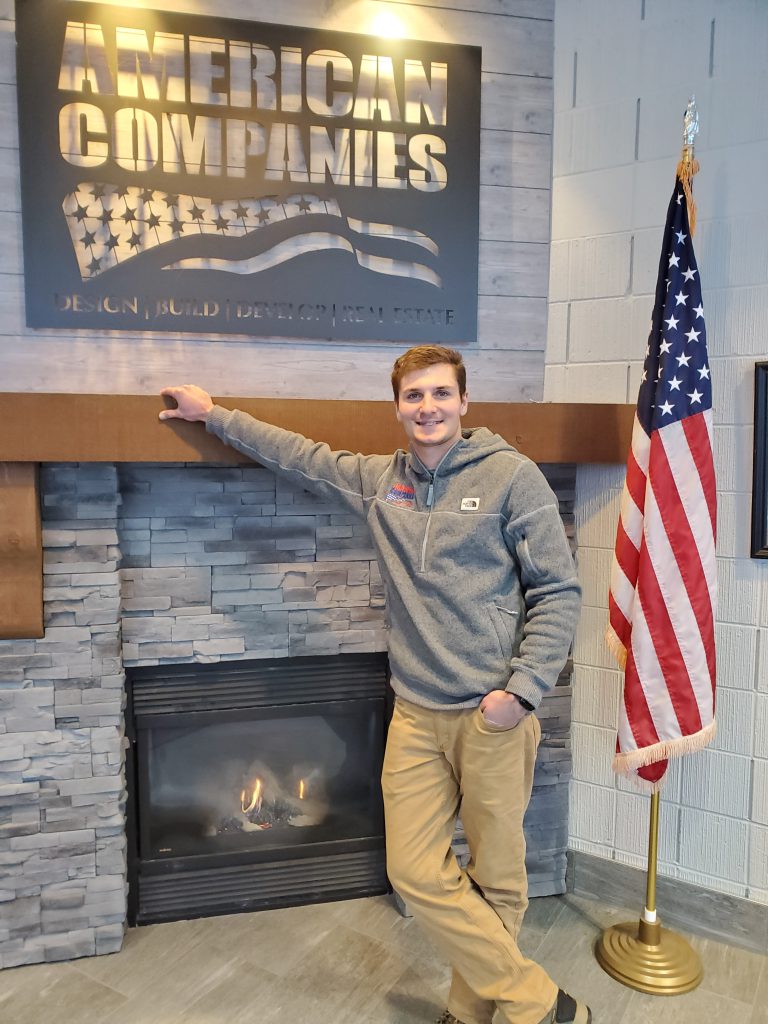 Dylan Berth
Site Superintendent, OSHA-30
Dylan joined the American Companies family in November of 2021. He is currently taking on his new role as Site Superintendent, as well as completing his degree in Construction Management at Northeast Wisconsin Technical College. He is looking forward to graduating & putting his new degree to work. Dylan is passionate about construction and is excited to bring a fresh perspective to the company to help American Companies success continue. He is experienced in both wood framing & erecting steel buildings.
When he is not hard at work, he enjoys bow & duck hunting. His love of the outdoors is shared by his soon to be wife, they like to go hiking & fishing together up north to unwind.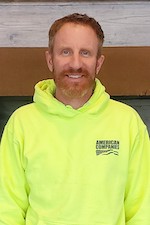 John "Mac" McLaughlin
Site Superintendent
Mac joined the American Companies crew, bringing with him a lifetime of trade experience. After moving to the United States from Canada as a young man, he always knew that he wanted a hands-on career. That led him to UW- Milwaukee, graduating with a bachelor's degree. Mac excelled at managing on-site construction teams, and decided to join American Companies to further his construction management skills. He looks forward to running a smooth job site, and ensuring timely project completions.
When he is not at work, or spending time with his 3 kids, Mac enjoys fishing on Lake Michigan, heading up north with his family, and bow hunting.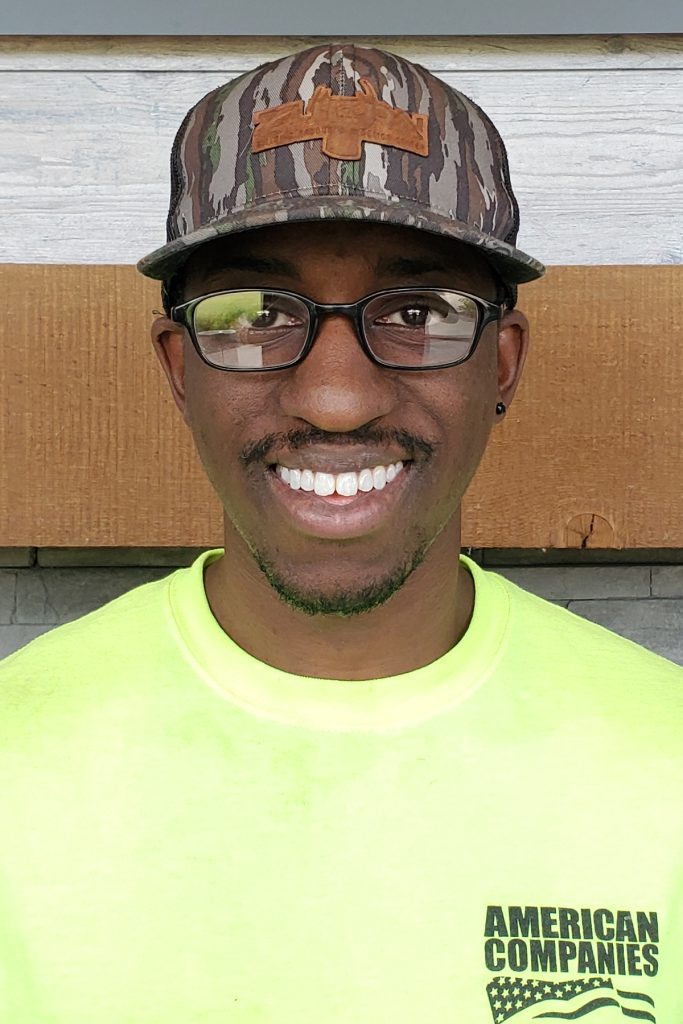 Michael Brown
Site Superintendent
Michael brings 12 years of construction experience to the American team. He started in the construction trade after graduating from Port Washington High School, gaining valuable experience while on the job. After starting college, he had a calling in his heart to serve his country. Michael has been in the Army Reserves since then and is ready to serve his country when called upon. Michael is excited to continue his education in construction management to become even more proficient, increase efficiency, and accuracy on the construction sites.
When outside of work, he enjoys hunting, fishing, the outdoors, & traveling.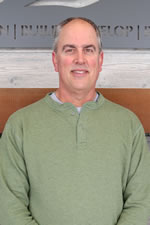 Michael Ingles
Carpenter, OSHA-10
Mike's focus as a carpenter is all things carpentry. He's been doing it his entire life; first with his own business and now with American Companies. Even with his many years of experience in the trades, Mike says he never stops learning.
When outside of work, Mike is happiest on a boat, preferably reeling in a monster walleye.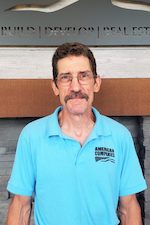 Brian Koehler
Carpenter, OSHA-10
Brian is a born and raised West Bender, having graduated from West Bend East in 1981. He started his career out by building pole barns, then moved to Tennessee to expand to commercial roofing and house building.
Brian felt a calling to serve his country in the Army Reserves for 8 years and fought in Desert Storm for two years. After returning to civilian living, he found himself moving a few times in the Southern US. He moved back to Wisconsin recently to help his aging parents, and now is a part of American Companies, assisting with finish carpentry on projects.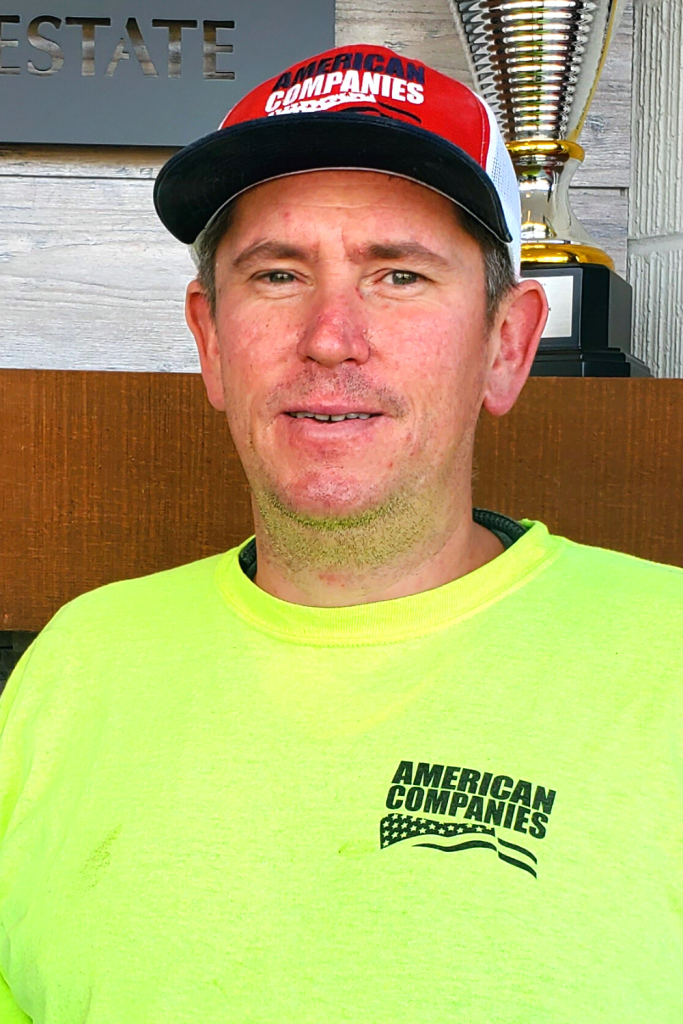 Adam Franklin
Carpenter, OSHA-30
Adam Franklin joined the American Companies crew in 2023 bringing with him 19 years of experience in carpentry & construction. He looks forward to growing his skill set and conducting important onsite finish work for projects.
Since he had graduated in 2001 from West Bend High School, Adam has always wanted to make a meaningful impact in construction. His focus on safety is paramount on our construction job sites, and he is excited to learn and grow towards construction management.
In his spare time, Adam enjoys spending time with his wife Robyn, daughter Taylor, and black lab Toby; woodworking, camping, hunting, fishing, and he is also an avid racing fan.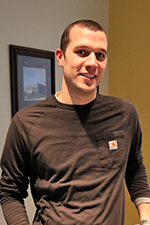 Stephen Houdek
COO, Pre-Construction Manager, ABC PS Certificate
Stephen has held multiple positions at the American Companies. He was a project manager overseeing construction projects, and then found his passion for estimating. He applies his engineering mindset to help find the best value solutions for projects. Stephen is a graduate from the University of Wisconsin – Milwaukee holding a Mechanical Engineering degree.
Stephen and his wife have two sons, and he greatly enjoys time with his family. They live their faith and enjoy time with friends and family, which is most often spent unwinding and sharing a meal together.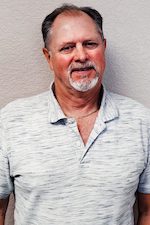 Jon Swenson
Pre-Construction Coordinator
Jon brings an impressive combined 38 years of experience in contractor sales to American Companies. He is now a critical part of our estimating team, and looks forward to building relationships with our sub-contractors. Jon's goal is to find the best combination of both value & quality for each project he is assigned. Jon is also a licensed home inspector and has built extensive construction knowledge from both residential and commercial experiences.
Jon and his wife have 3 children, and two grandchildren. Jon is an avid outdoorsman, and enjoys fishing for anything that bites, going deer hunting, and spending time at his up north cabin with his family.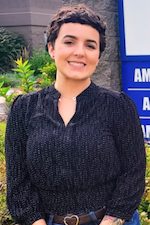 Emily 'Em' Reseburg
Operations Assistant
Emily 'Em' is a new member of the American Construction Services team. She is a West Bend Graduate and brings 6 years of strong customer services skills along with a hardworking, can-do attitude, and of course, a smiling face. She enjoys learning something new everyday, and strives to do her best to improve both her work life & personal life.
When she is not hard at work, she likes to craft and create art, spend time outside with friends, family and pets, go golfing and travel to her family's up north cabin. She is a proud Reseburg who aspires to do the best for not only herself, but the others around her as well.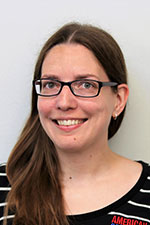 Emily Liddicoat
Office Manager
Emily joined the American Companies team in 2017. She is a graduate from UW-Platteville holding a bachelor's degree in Business Administration with an emphasis in Management, and a minor in Psychology. Her previous work experience at a law firm and a bank helped solidify her skills that she uses daily. Emily was promoted to Office Manager in 2022, and is a leader in the office, ensuring smooth operation of the entire Administration department.
Emily and her daughter enjoy spending time outdoors with family, traveling, and camping.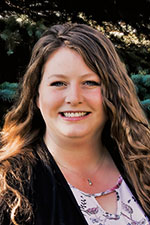 Christa Weindorf
Administrative Assistant
Christa became part of the American Companies family in January 2021. She brings experience of over 10 years in retail banking and management to the team and applies those skills to her current position as Administrative Assistant. She always greets everyone with a smile, and her can-do attitude helps multiple departments run smoothly. As a graduate of both the West Bend Area Chamber Leadership Program and the West Bend Police Department Citizens Academy Program, Christa recognizes the importance of being involved in the community. She volunteers through 4-H and helps out at many community events.
Christa, her husband, and her daughter enjoy spending time playing outdoors with their dog Bear. In her spare time, she loves gardening (starting many plants from seed), canning, fishing, drawing, and spending time with her family.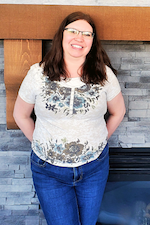 Carla Varisco
Office Administrator
Carla became part of the American Construction family in April of 2022. She has over 22 years of administrative experience on which to draw on for her new role here.
Her and her husband, Steve, have 2 girls, and 1 boy, and 2 awesome grandbabies. When Carla is not working, she likes to watch her grandsons, travel, and bake.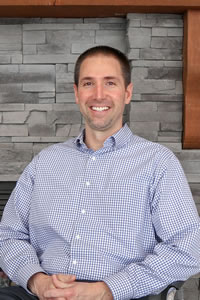 Adam Hertel, AIA
Chief Design Officer
As soon as Adam joined the team, he took on a leadership role at American Architectural Group. His architectural experience spans nearly two decades with a focus in commercial and hospitality design. Adam earned his bachelor's degree in architectural studies with a certificate in urban planning from UW-Milwaukee and is a registered architect in Wisconsin and Arizona.
Adam and his wife have two daughters. Together, they like playing and watching sports, especially baseball and football, and watching movies. He was also a member of the West Bend Sunrise Rotary club, serving as Past President, as well as multiple other boards and committees.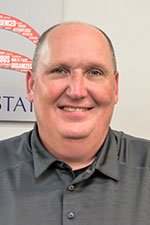 Scott Kintopf
Architectural Designer
Scott started at the American Companies in 2000, since that time, he has worked relentlessly to complete over 1,000 projects. He is an expert in AutoCAD, Revit, and getting $hit done! He is an integral part of the architecture team and shows his leadership by always being honest, upfront, and by setting and sticking to strict project deadlines. Scott is a proud graduate of Wisconsin Indianhead Technical College and earned his Associates degree in Architectural Commercial design there.
He and his wife have two daughters and a yellow lab named Jak. In his free time, he enjoys vacationing up north, spending time with family, and reeling in monster Muskies.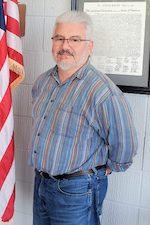 Jim Peterson
Architectural Drafter
Jim joined the American Companies Team in 2022 as an architectural drafter. He discovered since his freshman year at Menomonee Falls East High School that he has a love of architectural drawing. He followed that path to Waukesha Technical College and earned a diploma in mechanical drafting. He enjoyed 40 years of drafting & designing before finding American Companies. He credits American Architectural Group with allowing him to return to his dream of architectural drawing.
Jim lives in Thiensville with his wife, two sons, and his 11-year-old Doberman/Shepard mix Brutus. In his free time, he enjoys gardening, kayaking, minor woodworking projects, and long walks to clear his mind.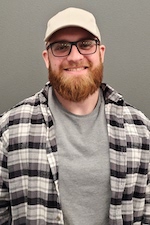 Chase Opgenorth
Architectural Designer
Chase became part of the American team as an Architectural Designer in 2023. He graduated from UW-Sheboygan in 2019 with an Associate's degree in Arts and Sciences, then followed his passion for architecture and transferred to UW-Milwaukee, and graduated in 2022 with a Bachelor's degree in architecture. He is currently pursuing licensure to become a Certified Architect to bring even more skill to American Architectural Group. His determination and work ethic shine through on the projects he works on, and he enjoys the work-life balance that American Companies provides.
In his spare time, he enjoys fitness activities and cooking, as well as creative works of art & writing. He also has a passion for learning about navigating the world of investments, and frequently enjoys traveling and road trips with friends when he can.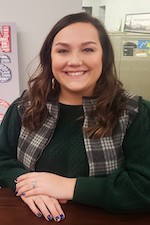 Mari Berth
Property Manager
Mari joined American Companies to take on her role as Property Manager for the Valor Company. Bringing 5 years of experience in management and business administration, she is excited to grow the property management company to help out even more Washington County retail and manufacturing locations. She is looking forward to focusing her role on creating solutions based cost-effective property management, and applying her bachelor's degree in Business Administration that she earned from UW-Green Bay.
In her free time, Mari enjoys spending time with family & friends, outdoor activities, and especially traveling with her husband Dylan, who also works for American Companies.